Your username or email address

Log in
Enter the email address for your account and we'll send you a verification to reset your password.

BJP Website Served Beef Dishes & Recipes During Swearing-In Ceremony Yesterday

This is however not the first time the website has been hacked earlier...

posted on 05/31/2019 17:19:59
The Modi 2.0 government took oath at the presidential palace Rashtrapati Bhavan yesterday. While leaders were taking oath at the ceremony big mischief was held with the BJP website. The official website 'Shadow_V1P3R', took claim of hacking it, wherein entire navigation was replaced by the beef and dishes of beef.
Clicking on one of them lead to a different page with the list of ingredients and detailed recipe. The text, 'About BJP', was changed to About Beef; 'BJP History' was changed to 'Beef History'.The website was taken down for a few hours before it started functioning normally.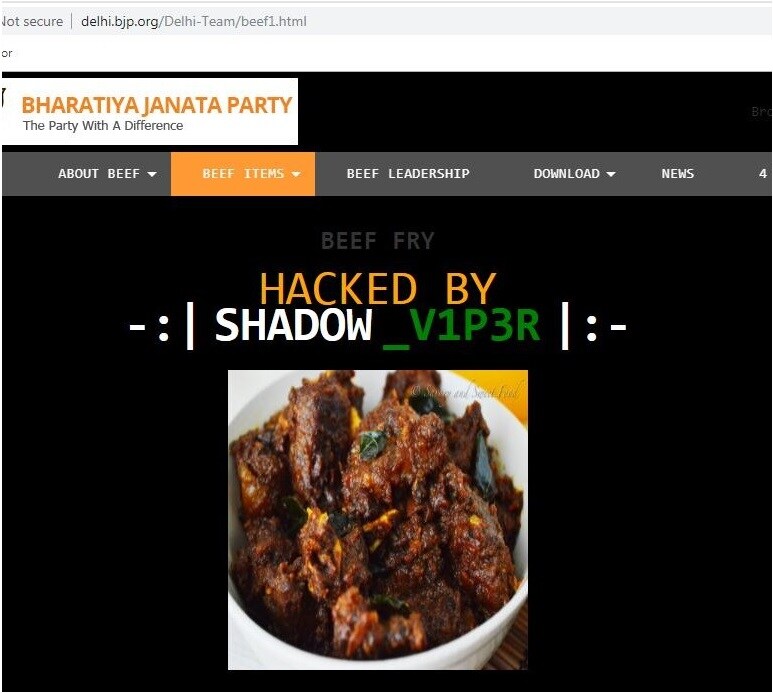 This is however not the first time the website of BJP has been hacked. In the recent past, the website was closed for about two weeks when a meme of German Chancellor Angela Merkel was posted along with Narendra Modi with some derogatory comments in March. Earlier, the personal website of Gujarat BJP vice-president IK Jadeja was also defaced with a "Pakistan Zindabad" message.
It wasn't just the BJP website which has been cyber attacked it was reported that about 100 government websites were attacked between 2017 & 2018.
For more interesting stories, Download the Lopscoop application from Google play store and earn extra money by sharing it on social media.
Add you Response
㑼
BJP Website Served Beef Dishes & Recipes During Swearing-In Ceremony Yesterday